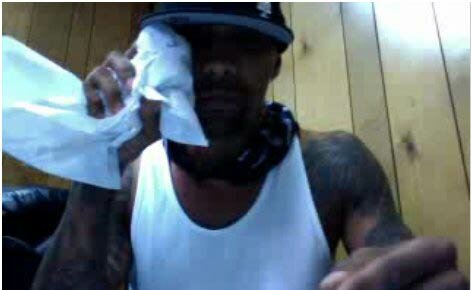 YO SO I AIN'T REVIEWED AN ALBUM IN A WHILE AND NIGGAS ASKED ME TO TO A TRACK BY TRACK REVIEW OF THIS SHIT SO HERE IT IS B. ENJOY THIS SHIT CUZ I'M UP POSTING THIS SHIT AT MIDNIGHT WHEN I GOTTA GET UP AT 5AM TO GO TO WORK LIKE A FUCKIN DICKHEAD CUZ I'M NOT RICH FOR MAKING NIGGAS LAUGH. ENJOY THIS SHIT AND CHERISH THIS FUCKIN SHIT B. AIGHT?
WOW B. THIS IS HOW NIGGAS ARE STARTING THIS ALBUM…WITH AN INTRO THAT SOUNDS LIKE KEN KANIFF IS ABOUT TO AUDITORIALLY FLY OUTTA NOWHERE BUT THEN THEY WRAP IT UP WITH SOME FUCKIN BULLSHIT EMINEM INSPIRATIONAL LIFE COACH BULLSHIT. "AN MC NEVER BACKS DOWN FROM ANY CHALLENGE!! AN MC IS NEVER AFRAID TO TAKE A STAND!! A REAL MC IS A WARRIOR!! A SOLDIER!!" NIGGA IS THIS A RAP ALBUM INTRO OR A COMMERCIAL WRITTEN BY A GUIDANCE COUNSELOR WHO IS ALSO A NAVY SEAL? THIS WAS OBVIOUSLY PRODUCED BY EMINEM I CAN TELL BY THE "SOMBER PIANO"…IF YOU ELIMINATED SOMBER PIANO FROM THE PLANET EARTH I'M 10000% POSITIVE EMINEM WOULDN'T KNOW WHAT TO DO WITH HIMSELF IN THE STUDIO B. INTRO SUCKS. NEXT.
OH OK COOL MORE INSPIRATIONAL BULLSHIT. DOG WHAT AM I SUPPOSED TO DO TO THIS? SIT ON A CITY BUS AND WRITE RHYMES WITH A HOODIE ON WHILE SOMEBODY FILMS ME IN SEPIA TONES? ROYCE'S RHINESTONE BANDANA AURA IS VERY STRONG ON THIS SHIT. JOELL SAID "FUCK YOUR KICKS FROM JAPAN" AND HE WAS ON TWITTER TALKIN ABOUT HIS "LANVIN LOWTOPS"…JUST SAYIN BRUH, GAY SNEAKER CULTURE IS GAY SNEAKER CULTURE. ALSO EMINEM CAN YOU PLEASE NEVER EVER GET ON A HOOK EVER AGAIN? OH HOLDUP HERE'S EMINEM'S VERSE (THANKS FOR DONATING YOUR ENTIRE FLOW YELLOW WOLF). THIS INSTRUMENTAL WILL PROBABLY BE IN CHRYSLER COMMERCIAL BY THE TIME I FINISH WRITING THIS SHIT B. THIS IS POWERFUL MUSIC B, LIKE AMBIEN POWERFUL.
WHAT LABEL IS BUSTA RHYMES ON? THIS NIGGA IS ON EVERY LABEL ON EARTH. NIGGA IS SIGNED TO LAFACE & SHIT. NIGGA BUSTA RHYMES IS ON LIMP BIZKIT RECORDS B ONLY NIGGA WITH A SOSODEF CHAIN IN 2012. HOLY SHIT THIS NIGGA IS SCREAMINGGGG OVER THESE FUCKING RIDICULOUS SYNTHS DOG I'M ACTUALLY DYING LAUGHING WRITING THIS B. THAT SHIT SOUNDS LIKE 2 CATS FUCKING ON A CASIO KEYBOARD MEEEEOOOOWWWWW DOODOO DODO-DODO. THEN BUSTA COMES IN WILD AGGRO LIKE WATTUPWATTUPWATTUP!!!!!! SHUTUP SHUTUP SHUTUP NIGGA EVEN YOU SCREAMING CAN'T KEEP ME AWAKE FOR THESE RAPPITY RAPPING ASS NIGGAS MAN. HIT BOY PRODUCED THIS SHIT BY DRAGGING A BEAT HE MADE ON XANAX AND MOLLY OUT OF HIS RECYCLE BIN AND EMAILING IT TO EMINEM. BUDDEN ALWAYS SOUNDS LIKE HE HAS THAT SPIT SUCKING TUBE THEY PUT IN YOUR MOUTH AT THE DENTIST IN HIS MOUTH WHEN HE RAPS. I'D RATHER HEAR THAT NIGGAS LATEST STRIPPER SPOUSE SLAP HER TITS TOGETHER. I CAN'T DISTINGUISH THESE NIGGAS FROM EACH OTHER EXCEPT FOR ROYCE CUZ ROYCE DOES THAT STUPID SHIT WHERE HE PAUSES AND SAYS A WORD WITH EMPHASIS LIKE HE'S AMAZED AT HOW NICE HE IS. OH YOU LAUGHED FOR A WHOLE BAR YO THAT'S VERY CREATIVE MY NIGGA YOU REALLY PUSHING THE BOUNDARI---ZZZZZZZZZZZZZZZZZZZZZZZZZZZZZZZ
YO EMINEM IS THE ABSOLUTE WORST NIGGA EVER TO GET ON A HOOK. NIGGAS WERE DEFINITELY PLANNING THIS ALBUM LIKE "YO LETS PUT EMINEM ALL OVER THIS SHIT AND HOPEFULLY EVERY WIGGER IN THE FLYOVER STATES COPS THIS WEEDPLATE OFF THE STRENGTH" THIS BEAT SOUNDS LIKE WHEN YOUR NINTENDO WOULD FREEZE AND THEN UNFREEZE THEN FREEZE AGAIN B. NAH BUT YO FOR REAL THIS HOOK IS REALLY THE WORST SHIT EVER? "YOLETSRILLYRAPRILLYFASTANDSAYDICK100TIMESGIRL" YO ON SOME REAL SHIT NOBODY IS IN THE STUDIO LIKE "YO MY NIGGA, "ILL THROW THIS DICK ON YOU GIRL?? THAT'S TERRIBLE B!" YO "CHILD BEARING HIPS" SHOULD NEVER BE THE PART OF ANY HOOK FOR ANY SONG EVER. 4 SONGS IN THIS IS THE WORST SHIT I EVER HEARD. THIS SHIT IS ABOUT STRIPPERS AND SOUND FORCED AS FUCK WHICH IS CRAZY SINCE JOE BUDDEN COULD BE ON ANIMAL HOARDERS: "I HAVE 430 STRAY STRIPPERS WITH MANGE IN MY JERSEY CITY APARTMENT" YOU'D THINK THAT NIGGA WOULD BE ABLE TO CRAFT A MASTERFUL SONNET ABOUT $50 BACK ROOM BLOWJOBS AND PUSSIES THAT LOOK LIKE DEPRESSED BASSET HOUNDS. NOPE, SAME SPITSUCKING WHISPER FLOW JAYZ LEFT BEHIND WITH 4XL THROWBACK JERSEYS.
YO I WAS ACTUALLY HOPIN THIS WOULD "SAVE "THE ALBUM SINCE NIGGAS TALKED ABOUT IT INCESSANTLY LIKE IT WAS "IN DA CLUB 2" BUT AS SOON AS THIS SHIT CAME ON I THOUGHT THE BITCH DOWNSTAIRS WAS LISTENING TO LINKIN PARK REMIXES & SHIT. THIS SOUNDS LIKE KORN. WHICH IS WILD APPROPRIATE CUZ THESE NIGGAS ARE KORNBALLS. "REAL NAME IS MY RAP SHIT THIS WHOLE ALBUM IS ASS KID!" (THAT'S MY REMIX) THIS IS ENYCE BUTTONDOWN MUSIC B. THIS IS ECKO SWEATSUIT MUSIC. THIS IS MUSIC FOR NIGGAS WHO DRIVE THEY MOMS SIENNA LE TO THE SUPERMARKET TO BUY YOGURT, JUMP IN THE DRIVERS SEAT, SPIN THEY HAT 180 DEGREES AND START BLASTING BULLSHIT LIKE THIS ALL THE WAY TO THE STORE.
OH THIS SOUNDS COOL SO FAR…OH NOPE NOW IT SOUNDS LIKE SOME SHIT NIGGAS PLAY OVER A GATORADE COMMERCIAL B. I CAN PICTURE A BLACK BITCH WITH VERY SMALL TITS JUMPING OVER HURDLES IN SLOW MOTION TO THIS SHIT. MY NIGGAS CAN I BE HONEST WITH YOU RIGHT NOW? I REALLY DONT WANNA LISTEN TO THE REST OF THIS SHIT UNLESS THE SECOND HALF IS THESE NIGGAS RAPPING COUPON CODES TO PAPAJOHNS.COM OVER LEX LUGER BEATS. JUST KIDDING I DON'T WANNA HEAR THESE NIGGAS RAP ABOUT ANYTHING THIS IS THE MOST BORING SHIT EVER B. THIS SHIT IS MORE BORING THAN SMOKING WEED IN THE DARK ON A TUESDAY. THIS SHIT IS MORE BORING THAN WATCHING TWO 80 YEAR OLD JEWISH LADIES PLAY RUMMIKUB…AND I HAVE WATCHED TWO 80 YEAR OLD JEWISH LADIES PLAY RUMMIKUB.
YO THIS HOOK IS GREAT THIS BEAT IS GREAT I ALMOST LIKE THIS SONG EVEN THOUGH IT SOUNDS LIKE A PEPSI COMMERCIAL...IF YOU TAKE SLAUGHTERHOUSE OFF IT. WHO GAVE THESE NIGGAS THIS SONG? WHO DID EMINEM BLOW TO GIVE THIS SONG TO THIS COLLECTION OF SUPERMARKET BRAND RAP NIGGAS? THIS SHOULDA BEEN T.I. NEXT SINGLE. IS HE IN JAIL? CAN SOMEBODY GIVE JOE BUDDEN SOME NASONEX? NIGGA SOUNDS LIKE HE HAS THE ILL SINUS INFECTON. I BET YOU THOUGHT THIS SENTENCE WAS GONNA BE A QUESTION BUT ITS NOT. YO REMEMBER WHEN CEELO GREEN WAS IN THAT VIDEO WITH THE METAL DURAG? LOLZ. YO I DON'T WANNA TALK ABOUT THIS SONG ANYMORE B. ROYCE SAID "BITCHES WALL TO WALL" I CAN ASSURE YOU IT'S NOT NO BITCHES AT A SLAUGHTERHOUSE SHOW B JUST ALOT ALOT ALOT OF WHITE KIDS IN HUGE FITTED HATS AND THAT #BLACKTWITTER DUDE BACKSTAGE GEEKED ABOUT BUDDEN LETTING HIM TAKE PICTURES OF HIM AND HIS LATEST SMILLZ NUDE.
EMINEM'S RECIPE FOR A SKIT/INTRO/OUTRO:
5000 TBSP SOMBER PIANO
2 TSP RANDOM LAUGHING IN BACKGROUND
4 RANDOM SOUND EFFECTS
1 DIGITALLY ALTERED VOICE OF SOME NIGGA SAYING INSPIRATIONAL "WE MADE IT" BULLSHIT (LIGHTLY BRUSHED WITH FAG SAUCE)
6 OZ NIGGAS WHISPERING
SOON AS I HEARD THIS I WAS LIKE "THIS BETTER NOT BE ABOUT DRUGS" THE ONLY DRUGS THESE NIGGAS PROLLY EVER TOUCHED WAS CHOPPING EMINEM'S ADIDAS FAT LACE SIZE LINES OF COKE TO KEEP THAT NIGGA IN THE OFFICE LONG ENOUGH TO CONVINCE HIM 4 STRUGGLE RAPPERS + SOMBER PIANO = AN ALBUM THAT ISN'T THE MOST PROLIFIC COLLECTION OF KLONOPIN BABY NAPTIME LULLABIES EVER PRODUCED. THIS SONG IS KINDA ABOUT DRUGS BUT WHATEVER. BEAT IS KINDA OK BUT IT MIGHT JUST SOUND OK CUZ THE REST OF THIS SHIT IS SO TERRIBLE SO FAR. YO CAN I ASK YOU SOMETHING THO INTERNET? WHY ARE ALL THESE NIGGAS RAPPIN LIKE YELLOW WOLF? THAT "RAPPITYRAPPIN RAP RAPPIN IM RAPPIN YALL" STUTTERY FAST FLOW IS OD OBNOXIOUS. IT'S LIKE NIGGAS ARE TRYNA GET ME TO LISTEN TO AS MANY BARS AS POSSIBLE BEFORE I FALL ASLEEP AND SLIDE OUTTA MY CHAIR CUZ I TURNED INTO A PUDDLE OF BOREDOM.
10) THROW IT AWAY
YO CMON SWIZZ. IDK IF YALL NIGGAS READ MY WATCH THE THRONE REVIEW BUT IT BUGS ME THE FUCK OUT HOW SWIZZ BEATZ MAKES THE SAME 2 BEATS FOREVER AND STILL GETS ON EVERY ALBUM B…EVEN THIS AUDIO DISASTER. THIS IS EMINEM CALLING IN A FAVOR AGAIN B, RIGHT? WHY WOULD SWIZZ BEATZ GET ON THIS ALBUM? AIN'T YOU BUSY SELLING REEBOKS AND EATING ALICIA KEYS ASS? (THAT LAST THING I'M ACTUALLY JELLY ABOUT B) YO THIS BEAT SUCKS BUT YOU ALREADY KNEW THAT. I ACTUALLY LIKED IT BETTER WHEN BIGGIE RAPPED ON IT. SPEAKING OF JUNIOR MAFIA I'D RATHER LISTEN TO A DOUBLE ALBUM OF CHICO DEL VEC THROWING UP TACO BELL THAN LISTEN TO ANYTHING SLAUGHTERHOUSE WILL EVER PUT OUT. I'D RATHER 69 WITH V-NASTY…WITH ME ON TOP. I HAD LIKE 300 JOKES IN THE VEIN OF "NIGGAS SHOULDA THROWN THIS SONG/ THIS ALBUM/ THEY RECORD DEAL, AWAY" BUT THAT'S TOO EASY AND I KNOW Y'ALL EXPECT MORE OF ME. FUNK FLEX PREMIERED THIS AND DID NOT DROP ONE SINGLE SOLITARY BOMB ON THIS SHIT. NIGGA PROLLY PUT THIS SHIT ON AND WENT TO GO TAKE A PISS AND GET A SNICKERS FROM THE VENDING MACHINE IN THE LOBBY.
YO AT THIS POINT IN THE ALBUM THAT'S EXACTLY WHAT I'M SAYING B. CAN YOU RESCUE ME FROM THIS SHIT? YOU KNOW HOW MUCH GUNPLAY IMA HAVE TO LISTEN TO TO BALANCE THIS FUCKERY OUT? I'M ACTUALLY LISTENING TO GOOD SONGS IN BETWEEN THESE ALBUM CUTS SO I CAN STAY AWAKE/ NOT OVERDOSE ON SOMBER PIANO AND "SKYLAR GREY" WHOEVER THE FUCK THAT IS (NOT EVEN GONNA BOTHER GOOGLING) YO YOUTUBE IS DOING THIS WEIRD THING WHERE IT'S CUTTING THESE SONGS HALFWAY THRU, EVEN MY LAPTOP IS LIKE "PLZ STOP" IN A COMPUTER SAD VOICE. CAN YOU RESCUEEEEE MEEEEE FROM MEDIOCRITYYYYYYY BECAUSE MY EYELIDS HEEEEAAAVVVYYYYY. WHOEVER THE 3RD GUY RAPPIN IS HE'S REALLY MAD AT THE MIC CUZ HE SOUNDS LIKE HE'S GARGLING WITH THAT SHIT. TAKE A XANAX MY GUY EMINEM IS PAYING YOU TO EXIST. YO EMINEM IF YOU READ THIS SIGN ME TO SHADY RECORDS NIGGA I'LL WEAR VELOUR SUITS IDGAF B LONG AS YOU DO WHAT YOU'RE DOING WITH THESE NIGGAS AND JUST PAY ME TO AGGRESSIVELY TALK INTO MICROPHONES.
DAMN SON. NIGGAS DID A SONG ABOUT COLLEGE. NIGGA STOPPED THE BEAT TO SAY "MOLLY'S." ALL INTENSELY LMAO! YO GET THIS SHIT OUTTA HERE. WHAT IS IT WIT THESE NIGGAS AND TERRIBLE SYNTHS? WHAT A STUPID FUCKING IDEA THIS SONG IS. I DON'T KNOW WHAT THESE NIGGAS CREATIVE PROCESS IS BUT NIGGAS HAD TO HAVE CONVENED AT SOME POINT AND SAID "YO LETS DO A SONG CALLED FRAT HOUSE AND DO MAD PUNCHLINES ABOUT COLLEGIATE LIFE EVEN THOUGH ALL OF US GOT GED'S" AND THEY ALL AGREED. THEN THEY BEDAZZLED THEY HOODIES TOGETHER AND JOEY SHOWED THEM HOW TO CUT THE SLEEVES OFF A DENIM JACKET AND WEAR IT. FUCK THIS.
OH THIS MUST BE THE OUTRO, THANK GOD, WAIT WHAT? THERE'S 3 MORE FUCKIN SONGS ON THIS SHIT? C'MON SON THAT IS TOTALLY UNNECESSARY. THE DUDE THAT PRODUCED THIS SONG PRODUCES FOR DRAKE RIGHT? THAT'S VERY APPROPRIATE BECAUSE THIS SHIT IS EMOTIONAL AS FUCK B THERE'S MENSTRUAL BLOOD STREAMING OUT MY SPEAKERS RIGHT NOW IT'S MAKING A HUGE MESS B. THIS HOOK SOUNDS WILD DRAKEISH EXCEPT IF IT WAS DRAKE GIRLS WOULD BE INTO IT INSTEAD OF NIGGAS THAT LIVE ON RAP MESSAGE BOARDS AND HAVE AN EXTENSIVE COLLECTION OF SIZE 8 FITTEDS AND BASKETBALL SHORTS.
YO I PARKED THIS ALBUM SIDEWAYS IN THE RECYCLE BIN MY NIGGA THIS SHIT IS SO WACK I'M GONNA PUT THIS REVIEW AND MY EAR CANALS OUT OF THEY MISERY. NOT EVEN REVIEWING THE LAST TWO JOINTS CUZ UNLESS THEY JUST THREW IN 2 SONGS FROM "IT WAS WRITTEN" THERE'S NOTHING THAT CAN SAVE THIS OUTSTANDING PIECE OF WEED CRUMBLING PARAPHERNALIA. IF I HAD A PHYSICAL COPY OF THIS SHIT I WOULD THROW IT IN THE AIR AND SHOOT IT. I HAD HIGH HOPES FOR JOELL ORTIZ WHEN HE CAME OUT BECAUSE I'M RACIST AND BLINDLY SUPPORT LATINOS AND PEOPLE FROM THE BRONX (I KNOW HE'S FROM BROOKLYN BUT I'M SAYING LIKE FOR EXAMPLE I FUCK WITH FRED THE GODSON CUZ HE'S FROM THE BRONX.) JOELL FUCKED UP AND JOINED DAUGHTERHOUSE AND NOW HE'S DOING KISS & STYLES BACK AND FORTH BARS WITH A NIGGA WHO SPENDS MORE TIME WIFING STRIPPERS AND HOES THAN DARIUS MCRARY. THIS IS NOT WHAT I HAD IMAGINED FOR YOU JOELL. SMH.
OVERALL I GIVE THIS ALBUM A "GET THE FUCK OUTTA MY FACE WITH THIS BULLSHIT" OUTTA 10. 10 BEING THE HIGHEST AND GET THE FUCK OUTTA MY FACE WITH THIS BULLSHIT BEING SELF EXPLANATORY. IMA MAKE A SHORT LIST OF THINGS THAT ARE LESS BORING AND/OR MEDIOCRE THAN THIS ALBUM
1) PLAYING HEAD TO HEAD UNO WITH YOUR RETARDED COUSIN SERGIO.
2) ORDERING A PLAIN PIZZA FROM LITTLE CEASAR'S
3) SHOPPING FOR CURTAINS AT JCPENNEY
4) ELLEN DEGENERES' STAND UP COMEDY
5) THE MILWAUKEE BUCKS
6) READING THE NUTRITION FACTS ON THE BACK OF COCOA PEBBLES
7) JERKING ILLZ TO RIZZOLI & ISLES
8) READING STEVE MARTIN'S TWITTER FEED
9) FALLING ASLEEP ON THE TRAIN
10) TURNING YOUR CAR ON AND CONNECTING A HOSE TO THE EXHAUST AND PUTTING THE HOSE IN YOUR WINDOW THEN SHUTTING ALL THE WINDOWS
JUST A SHORT LIST OF SHIT YOU WOULD PROBABLY ENJOY MORE THAN THIS AUDIO HANES TEE YOUR GIRL WORE TO DYE HER HAIR.
YO AT SOME POINT I HAD SAID I WAS LISTENING TO OTHER JOINTS IN BETWEEN TO KEEP ME FROM OVERDOSING ON HIGH FRUCTOSE CORN NIGGAS. HERE THEY ARE, MAKE A MIXTAPE OR SOME SHIT.

ACTION BRONSON - BIRD ON A WIRE

CHINX DRUGZ - IM A COKE BOY

FRENCH MONTANA - BRICKS & WALLS
MAX B, STACK BUNDLES, MEL MATRIX - REFRESHING
LIL WAYNE - MO FIRE

STYLES P - SOME NIGGAS
YO GOTTI - I GOT DAT SACK
PRODIGY - HNIC
ASAP ROCKY - GOLDIE
GUNPLAY - TAKE THIS
NATURE - YA HOMIE
MAX B - PORNO MUZIK
JUELZ SANTANA - LET'S CRUISE
3 6 MAFIA - LICK MY NUTS